What is Compassionate Citizen
"The greatness of a nation and its moral progress can be judged by the way its animals are treated."
– Mahatma Gandhi
Compassionate Citizen is an award-winning humane education programme which is designed to help students aged 8 to 12 better understand and appreciate animals.
Most children naturally feel concern and affection for animals but learn cruelty from society and often lose sight of their inherent compassion. Of course, a lack of respect for other species can translate into insensitivity and cruelty towards humans, too. It's now well documented by sociologists, psychologists, and law-enforcement agencies that childhood violence against animals is often an early warning sign of future acts of violence towards humans. Children often face issues such as violence and bullying, so it's important to teach students the value of compassion and empathy when interacting with each other and with animals.
The programme can be easily included in schools' curricula via language arts, science, social studies, environmental science, and value education. It's also perfect for use by integrity, eco, and animal rights clubs in schools. Although it's designed to be included in the monthly curriculum, it can be used for a shorter period of time, including in a one-day workshop.
The Compassionate Citizen curriculum kit is free to all teachers – and the lessons in it are invaluable. Using fun analogies, easy-to-understand values, cute and inspiring animal videos, and true stories of animals who overcame adversity, Compassionate Citizen teaches students how similar we are to all the animals, large and small, with whom we share the world. This all-inclusive pack has everything a teacher needs to implement lessons on empathy, kindness, and compassion in an accessible and fun way.
What's in the Kit?
The kit is a one-stop interdisciplinary curriculum that includes amazing facts, easy-to-understand analogies that help students take the point of view of someone else, a 23-minute video featuring inspiring animal stories, and age-appropriate information on the Golden Rule and ways kids can save animals! It touches on stopping bullying, helping the environment, saving wild animals, taking good care of companion animals, and much more. The material is currently available in English and Hindi but could be translated into other languages if there's enough demand.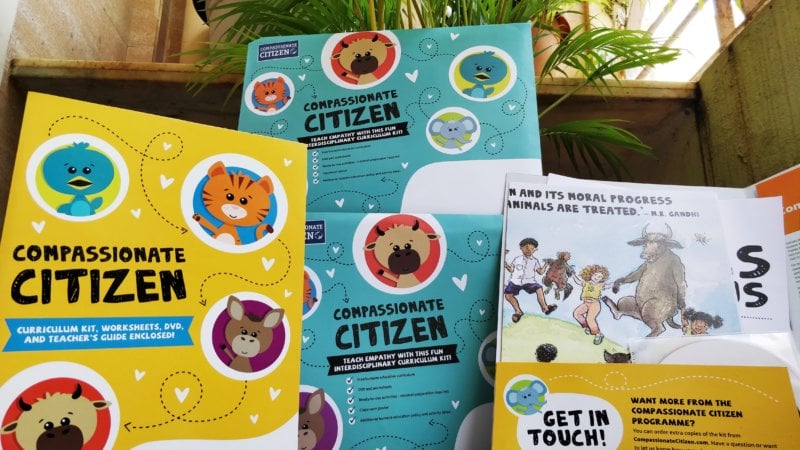 What Do the Experts Say?
Compassionate Citizen has been endorsed by the Animal Welfare Board of India, the Central Board of Secondary Education, and the Kendriya Vidyalaya Sangathan. Andhra Pradesh, Chandigarh, Delhi, Goa, Gujarat, Haryana, Kerala, Madhya Pradesh, Telangana, and others have issued circulars asking schools to include the programme in their official school curricula.
Testimonials From School Principals, Teachers, and Government Officials About Compassionate Citizen
School Endorsements Celebrity Endorsements Government Endorsements
Add Compassionate Citizen to Your Curricula
The Compassionate Citizen programme will give students and teachers a deeper understanding of animals and how to coexist peacefully with them. The materials – including the poster and video – are available to schools and teachers free of charge. For more information, please e-mail PETA India at [email protected].
Additional Resources
Animals Are My Friends is a charming songbook that could be a wonderful addition to your virtual or in-person workshops with schoolchildren (ages 2 to 7 years old). View the video, or purchase the book.
Cows and bulls have a special way of greeting their friends. Find out how they show love by watching this video!